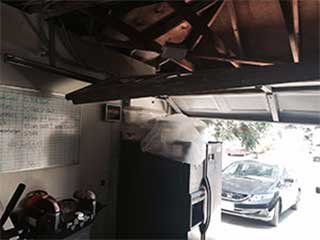 Why Wait Until it's Too Late?
You can save money if your garage door repairs are done by experts. We have the knowledge of what to do now to prevent unnecessary expenses in the future. Partner with experts to ensure less effort and costs.
Let's Fix Worn Parts
Daily movement of a door wears the different parts down. Can you handle repairing screws and wheels? Will you be able to replace them correctly? Allow our team to regularly test and do maintenance on your door. Being proactive can prevent future hassles.
Broken Parts Need Replacement
Many parts determine your door's safe and efficient functioning. Don't allow your door to become a hazard. This happens when you operate the door while some parts are broken. A snapped spring, a broken cable or a broken bracket compromises the safety of your premises.
Call us the moment you notice something amiss or when you hear an unfamiliar noise. We can investigate, identify and replace the appropriate parts. We'll test your door to ensure it shows no signs of danger anymore. You deserve that peace of mind.
Warped Parts Require Expertise
The vibrations of a moving door and the tension on the different parts are bound to pull a few of them out of sync. When brackets bend or your door goes off track, do you know how to get it working again? Our team has the tools and knowledge to get it right. Our expertise means we'll find the best solution at the lowest price.
It Only Takes One Call
There's no reason to struggle with problems on your own. Fixing your door can be a complicated task, so don't risk doing it with limited knowledge. You could worsen the problem. Our team in Hollywood, knows exactly what to repair to get your door working quickly, at reasonable costs. Trust us.

Looking for more? We also offer:
Roll Up Garage Door Services
Garage Door Cable & Track Repair
Emergency Garage Door Services
Overhead Door Installation