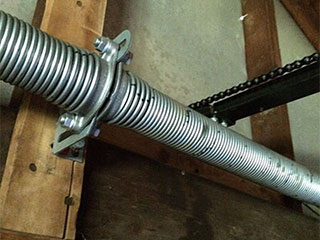 The springs of your overhead garage door are the parts of the system that allow you to manually operate your door, as they provide a counterbalance to the weight of the panels. When using a garage door opener, the springs still play the sane very crucial role. There are two main types of garage door springs, and they each operate differently.
This type of spring uses a rotating shaft that's connected to the cable With the torsion that it stores, this type of spring is able to carry the weight of the door panels with the help of a rotating shaft that's connected to the cable drums. The shaft forces the torsion spring to twist and unwind as it turns, which then provides the necessary tension required to raise or lower your garage door, using the help of the cables, that wrap around the cable drum as the door rises.
Torsion Spring Safety
In terms of safety, one of the most important things that you need to keep in mind with torsion springs is that they can be very dangerous. It is not advisable for amateur do-it-yourselfers to take on the dangerous task of installing or performing a torsion spring adjustment. There have been many reports throughout the years of people getting severely injured because they mishandled these components. Never attempt to perform a broken spring replacement by yourself. That's why our professional garage door technicians are for.
Extension garage door springs stretch and then contract in order to carry the weight of the door. They are usually installed in pairs, as they are much smaller in diameter than the torsion spring. These are usually mounted along the sides of your door, and are stretched towards the inside of your garage, parallel to the ceiling.
Extension Spring Safety
Springs of this type are far more dangerous than their torsion counterpart, as the nature of their stretching and contracting action makes them more susceptible to wear and tear damage. When they break, they can whip out like a rubber band and will hurt and damage any person or property in their path.
Seek Professional Assistance
When broken spring replacement is what you need, there's no one better to call than our team at Garage Door Repair Hollywood. We can take care of these dangerous components quickly and safely. Call us today.
If you're ever in need of garage door spring services somewhere closer to the lower part of Florida, we know someone you can call. It's useful to know who's the nearest local service pro you can contact so that you get a fast response during emergency scenarios. The garage door spring repair Miami team services all types of extension and torsion units. Be sure to reach out to them if you ever need help with a worn or broken spring.